1975 Dodge Dart At A Glance
Dart Sport 360
Performance model
2-door only
360 V-8
Power front disc brakes
3-speed column-mounted automatic; no manual available
Purists would call this a Plymouth Duster with a Dart front end, and they would be right
Dart Sport Hang 10

More stylish than high performance
2-door only
225 Slant-6 or 318 V-8; no 360 available
Power front disc brakes optional
3-speed floor-mounted automatic; no manual available
Purists would call this a Plymouth Duster with a Dart front end, and they would be right
Dart Sport

Tamer performance model
2-door only
318 V-8 or 225 Slant-6
3- or 4-speed floor-mounted manual is optional; column-shift 3-speed automatic optional
Optional power front disc brakes
Purists would call this a Plymouth Duster with a Dart front end, and they would be right
Dart Special

Dressed-up model
2- or 4-door
225 Slant-6 or 318 V-8; no 360 available
Power front disc brakes optional
3-speed floor-mounted automatic; no manual available
Chrysler stresses luxury: crushed-velour seats, plush cut-pile carpeting, radio, carpeted trunk, power steering, and vinyl roof are all standard.
Dart Swinger

For tighter budgets
2- or 4-door
318 V-8; 225 Slant-6
Power front disc brakes optional
Column-shift 3-speed manual or 3-speed automatic
More standard features, such as carpeting, wood-grained dash, drip mouldings, 3-spoke wheel
Distinguishing marks: Swinger logo on front fenders
Dart Custom/Dart

Lowest trim level
4-door only
318 V-8; 225 Slant-6
Column-shift 3-speed manual or 3-speed automatic
Limited standard features
Distinguishing marks: no trim at all
Dartography: How To Spot Em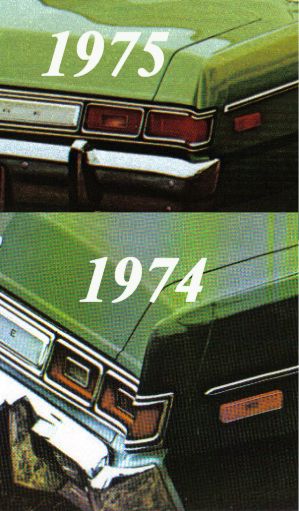 This has got to be the most subtle change we have ever seen in Dartography. Look closely at the taillights of the 74; you'll see two trim rings embedded in the pods. One trim ring outlines the back-up lights.

Now look at the 75. The trim rings are gone. The backup lights are still in the inside pod, but they are much more difficult to see.
Safety Equipment
Retractor-based 1-piece seat/shoulder belts soldier on.
What Changed Since Previous Year
The 198 Slant-6 is gone forever; the 225 6 is the base engine.

Manual transmissions are no longer available with the 360 V8.

The luxury-level Dart Special is the first non-performance Dart to offer power disc brakes as standard equipment.

Electronic ignition makes its entrance.