1974 Dodge Dart At A Glance
Dart Sport 360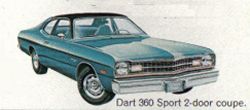 Performance model
2-door only
360 V-8
4-speed manual with Rallye Package; 3-speed manual on floor; 3-speed automatic
Rallye package includes upgraded suspension, E70x14 tires, Rallye wheels, Tuff steering wheel, dual exhaust
Distinguishing marks: 360 stripe runs body to back window and then scoops up over roof, somewhat like the Torino; Dart 360 logos on fenders
Fold-down rear seat available, making this what Chrysler calls a convertriple
Purists would call this a Plymouth Duster with a Dart front end, and they would be right
Dart Sport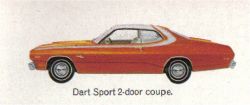 Tamer performance model
2-door only
318 V-8; 225 or 198 Slant-6
4-speed manual (with 318 only, in Rallye Package); column-shift 3-speed manual or 3-speed automatic
Optional Rallye package includes upgraded suspension, E70x14 tires, Rallye wheels, Tuff steering wheel, dual exhaust
Distinguishing marks: stripe runs body to back window and then scoops up over roof, somewhat like the Torino; Dart Sport logos on fenders
Fold-down rear seat available, making this what Chrysler calls a convertriple
Purists would call this a Plymouth Duster with a Dart front end, and they would be right
Dart Swinger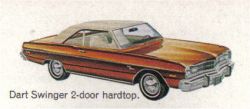 Higher-range model
2-door only
318 V-8; 225 or 198 Slant-6
Column-shift 3-speed manual or 3-speed automatic
More standard features, such as carpeting, wood-grained dash, drip mouldings, 3-spoke wheel
Distinguishing marks: Swinger logo on front fenders
Dart Swinger Special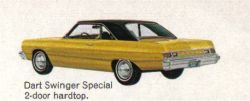 The Swinger Special model was designed for tighter budgets
2-door only
318 V-8; 225 or 198 Slant-6
Column-shift 3-speed manual or 3-speed automatic
Limited standard features
Distinguishing marks: Swinger logo on front fenders
Dart Custom

Lower trim level
4-door only
318 V-8; 225 or 198 Slant-6
Column-shift 3-speed manual or 3-speed automatic
Limited standard features
Dart Sedan

Lowest trim level
4-door only
318 V-8; 225 or 198 Slant-6
Column-shift 3-speed manual or 3-speed automatic
Limited standard features
Dartography: How To Spot Em

The most striking change for 74 was the placement of the taillights; we are now back to body-mounted taillights, which we haven't seen since the 69 model.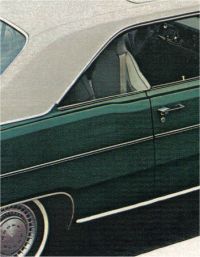 In 1974, domestic automakers began experimenting with the one-piece seat/shoulder belts which we now use today. Note that, unlike the 73 models, the shoulder and lap belts are a single integrated unit, which hang down from a roof-mounted stirrup.
Safety Equipment
The integration of the lap & shoulder belts was both a step backward and a step forward.

The good news is that this was the first step toward the 1-piece safety harnesses we use today; it is much more convenient to buckle a single 3-point belt.

The bad news is that the seat belt retractors on these early models often were cranky and did not retract, seriously compromising the effectiveness of the restraints.
What Changed Since Previous Year
The Dart Sport 340 became the Dart Sport 360. There is a new Dart Sport Rallye, based on the Dart Sport. Taillights are now body-mounted. Bolt-and-a-belt seat belts are gone forever, replaced by seatbelts housed in retractors.