1973 Dodge Dart At A Glance
Dart Sport 340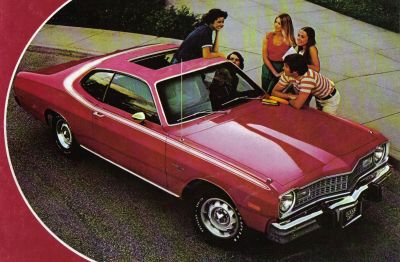 Performance model
2-door only
340 V-8
3-speed manual on floor; optional 4-speed manual
Distinguishing marks: 340 stripe runs body to back window and then scoops up over roof, somewhat like the Torino; Dart 340 logos on fenders
Rallye suspension is standard; Rallye instrument cluster
Fold-down rear seat available, making this what Chrysler calls a convertriple
Purists would call this a Plymouth Duster with a Dart front end, and they would be right
Dart Sport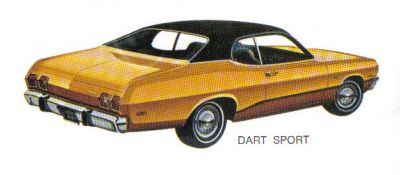 2-door only
318 V-8; 225 or 198 Slant-6; 340 is not available
3-speed manuals available only with Slant-6 engines; 3- or 4-speed manuals available with V-8
Fold-down rear seat available, making this what Chrysler calls a convertriple
Purists would call this a Plymouth Duster with a Dart front end, and they would be right
Dart Swinger Special

2-door only
318 V-8; 225 or 198 Slant-6
3-speed manual on column; 3-speed on floor optional; 3-speed automatic
The Swinger Special is for tight budgets
Dart Swinger

2-door only
318 V-8; 225 or 198 Slant-6
3-speed manual on column; 3-speed on floor optional; 3-speed automatic
Dart Custom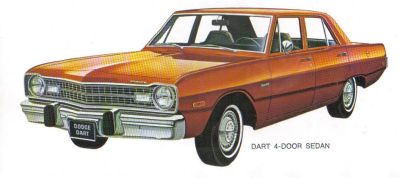 Economy trim level
4-door only
318 V-8; 225 or 198 Slant-6
3-speed manual on column; 3-speed on floor optional; 3-speed automatic
Dart Sedan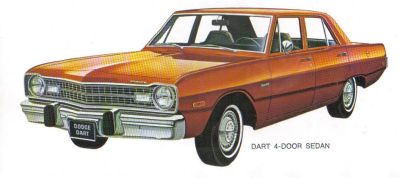 Economy trim level
4-door only
318 V-8; 225 or 198 Slant-6
3-speed manual on column; 3-speed on floor optional; 3-speed automatic
Dartography: How To Spot Em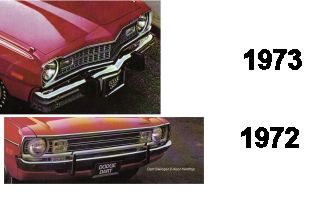 Look at the radical diiference in the 72 and 73 front ends. Gone are the bold, aggressive parking lights of the 72, replaced by lights more akin to those on the 67 and 69. There is now a nosepiece in front of the grille, and the grille points, somewhat like the 69.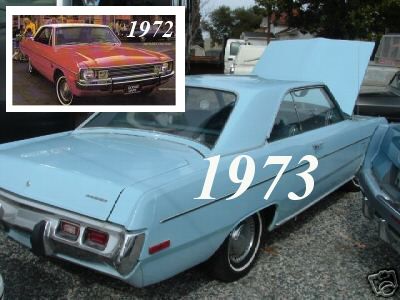 In a harbinger of things to come: look closely at the 72 (red car, inset), and then at the 73 (blue car). For the 2-door Darts, the cool wing vent windows that so defined cars of the 60s and 70s have disappeared. Although still available on the 4-doors (Chrysler literature, oddly, even specifically mentions them as a feature, even as Chrysler was eliminating them from its product line), the wing vents would soon disappear from all cars by the late 70s.

Notice how the stripes on the Dart Sport 340s have changed from 72 to 73.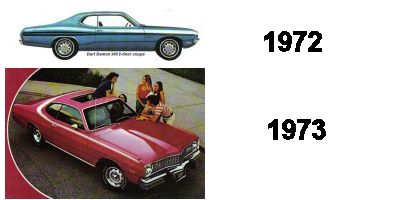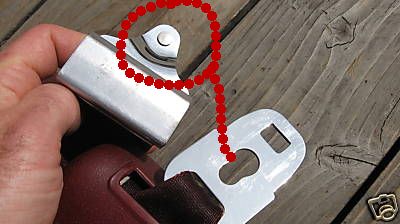 1973 was the only year that domestic automakers used a funky hook&eye seatbelt system; a hook on the shoulder belt was designed to catch the eye of the lap belt. Once the lap belt was buckled, it was impossible to unbuckle the shoulder belt.
Safety Equipment
In 1973, all domestic car-makers began to integrate lap and shoulder belts; the shoulder belts now hooked into an eyepiece on the lap belt. In theory, this made buckling both belts easier.
What Changed Since Previous Year
The Demon moniker is gone; apparently, some folks thought it was offensive. Seatbelts are now somewhat integrated with shoulder belts, relying on a funky hook&eye system.

The cool triangular vent windows have disappeared from the 2-door Darts.