1971 Dodge Dart At A Glance
Demon 340

Performance model
2-door only
340 V-8
3-speed manual on floor; optional 4-speed manual
Distinguishing marks: 340 stripe runs body of the car; dual hood scoops; Demon logos
Rallye suspension is standard; Rallye instrument cluster
Purists would call this a Plymouth Duster with a Dart front end, and they would be right
Demon

Modest performance
198 slant-6, 225 slant-6 or 318
3-speed manual or 3-speed automatic
No distinguishing characteristics
Purists would call this a Plymouth Duster with a Dart front end, and they would be right
Swinger

Economy trim level
2-door only
198 slant-6, 225 slant-6 or 318
3-speed manual or 3-speed automatic
Swinger Special

Economy trim level
2-door only
The Swinger Special was designed for a tight budget
198 slant-6, 225 slant-6 or 318
3-speed manual or 3-speed automatic
Dart Custom

Economy trim level
4-door only
198 slant-6, 225 slant-6 or 318
3-speed manual or 3-speed automatic
Dart Sedan

Most basic trim level
4-door only
198 slant-6, 225 slant-6 or 318
3-speed manual or 3-speed automatic
Dartography: How To Spot Em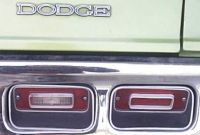 The classic Dart bodies now sport a revised 2-pod taillight. Front ends are unchanged.
Safety Equipment
Safety equipment remains more or less unchanged: lap and shoulder belts; headrests; collapsible steering column. The ignition switch is now integrated into the steering column--an antitheft device.
What Changed Since Previous Year
The Swinger 340 becomes the Demon 340, which is really a Plymouth Duster with a Dart front end. There is also a Demon, available with a slant-6 or the 318, which is also a Duster with a Dart front end. The remaining Dart bodies are limited to the Swinger, the Swinger Special, The Dart Custom, and the Dart.